Nonna's News
West to Occupy Iconic Bricktown Corner
Haynes Restaurant Group to Carry on Tradition of Excellence
March 6, 2015
Bricktown pioneer Avis Scaramucci today announced "Bricktown West" restaurant as the new tenant to occupy the iconic Oklahoma City space at the corner of Mickey Mantle and Sheridan, formerly home to local favorite Nonna's Euro-American Ristorante and Bar. West is an upscale modern American restaurant and bar concept established by brothers Rick and David Haynes. Bricktown West is expected to open later this year following an extensive remodel project beginning next month. The Bricktown restaurant will be the second West location, mirroring the style and menu of the original in Nichols Hills. The longtime Oklahoma City restaurant family also operates Urban Johnnie near Bricktown, located at LEVEL Urban Apartments at Second Street and Walnut Avenue, along with their original local hamburger specialty chain Johnnie's Charcoal Broiler.
"I am personally thrilled we attracted a fine local restaurateur who embraces the high standards we set with Nonna's to reactivate this great location," Scaramucci said. "We received interest in the site from prominent, well-known national restaurant operators who recognize the good things happening throughout Oklahoma City but especially in Bricktown. However, my heart is with our burgeoning local restaurant scene that I am privileged to have been a part of for 19 years. Local restaurant operators are deeply rooted in our vibrant community. I have admired how Rick, David and the Haynes family have grown their operation the past 10 years with the addition of new concepts to meet the variety of dining experiences and tastes of our ever-diversifying market. At the end of the day, it is all about getting the right concept at the right location. Bricktown West is the ideal tenant selection, and it ensures this important intersection will remain active and vibrant for many years to come."
West, a winner of the OpenTable 2014 Diners' Choice award, is known for its innovative and modern cuisine with specialties including its famous beef tenderloin and red wine risotto, ahi tuna and flash fried zucchini chips.
"The opportunity to carry on the great tradition of excellence set by Avis and the team at Nonna's is an honor," West owner Rick Haynes said. "Avis elevated dining not only in Bricktown but also Oklahoma City when she opened Nonna's in 1996. My brother and I have admired her personal style and how she made Nonna's an important part of the city and this neighborhood. We intend to carry out the tradition of service at Nonna's while creating our unique West experience with signature lunch, dinner, wine and cocktail offerings. So many people have come to love this prominent location, and it's been an anchor to the development of Bricktown. We are looking forward to seeing familiar patrons and new faces when we open our second upscale West restaurant in the growing Bricktown district. The success of our nearby Urban Johnnie restaurant adds to our enthusiasm for bringing West to the heart of Bricktown."
The Haynes family has been an integral part of Oklahoma's restaurant industry as owners and operators of Johnnie's Charcoal Broiler since 1971. The brothers collaborated to design a new venture, opening West in 2010 in Nichols Hills.
Bricktown is a symbol of Oklahoma City's renaissance, and the Nonna's corner is at the heart of that development," Oklahoma City Mayor Mick Cornett said. "I'm glad to see the torch passed to another beloved Oklahoma restaurant group that will surely uphold the success Nonna's began."
Rick Haynes said Bricktown West will offer guests a contemporary take on traditional American cuisine. The vibrant restaurant offers diners an assortment of brunch, lunch and dinner options as well as signature, house made cocktails and an extensive wine list.
"Rick and David know what works in Oklahoma City, and they understand high-quality food and how to create a memorable dining experience," Scaramucci said. "I know they will excel at this location. Bricktown patrons will be in great hands."
Longtime employees and customers share a final night at Nonna's Euro-American Ristorante in Oklahoma City
By Tricia Pemberton, For The Oklahoman
January 2, 2015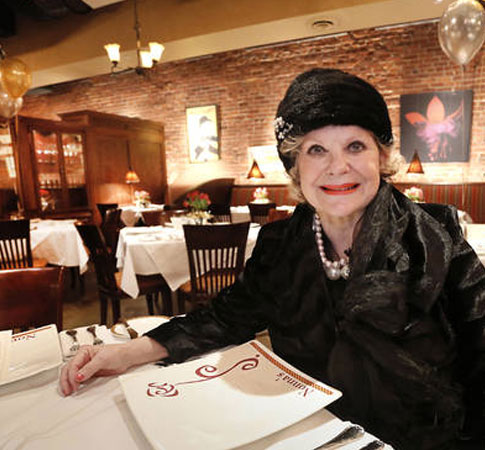 Owner/operator Avis Scaramucci, at Nonna's Euro-American Ristorante and Bar in Bricktown, awaits the New Year's Eve rush. Photo by David McDaniel, The Oklahoman
About 1:30 a.m. New Year's Day, Avis Scaramucci bid farewell to the last of the more than 500 customers who had come to share the final New Year's Eve at Nonna's Euro-American Ristorante and the Purple Bar in Bricktown.
She said her final goodbyes to the more than 75 staff members who stayed loyal to her until the end, and she closed the door on a long-term dream.
Earlier in the evening of New Year's Eve — her famously wild blond hair tucked neatly beneath a black fur cap, pearls gleaming above a black velvet coat — she'd given the serving staff their final pep talk.
"Thank you. You have worked hard and have given your best," Scaramucci said. "I will think of all of us a gazillion times. This has been an awesome, awesome time. You have raised the bar."
Several staff members paid tearful tribute to the woman they say shepherded them to a higher level of service than they had ever experienced in the restaurant business.
"You have taught me so much," Sarah Perry, 26, said to Scaramucci, tears streaming. "I've gained a family I'd never had. This is my getaway place. I don't come here just to work; it makes me feel like a different person to be here. You take so much pride in what you do and take such good care of your employees and have so much compassion."
John Burruss, 52, has been with Scaramucci since 2001. He watched the building of Nonna's from the ground up in Bricktown — from the fabric swatches for the banquettes to the curving staircase lined by custom-painted columns, to the blown-glass, colored lights that hang over the Purple Bar.
Burruss worked opening night at Nonna's in Bricktown in February 2005.
"I felt just like this 10 years ago," he said, "Like I'm going to throw up or cry. But it has been a really good ride. We've pleased a lot of people. We've served a lot of families from meeting to marrying to graduations, even a few funerals. We've celebrated or cried right along with them."
Meeting and eating
That is part of what was so special about Nonna's, Scaramucci said. It was not just about wonderful food or great service, but about creating a memory.
"What industry is so included in people's lives?" she said. "Everyday is a special opportunity to touch the people that come through our doors."
Reuben Echeverria, 38, said he came from other restaurants where he was taught to "churn and burn."
"I was an order taker," he said. "Here, I've learned everything from proper posture to manners to left and right table service to true service. I know I am going to go somewhere great and excel because of what I learned here."
Scaramucci said teaching her staff to care for customers in an exceptional manner would not have been possible if she had not been wiling to work alongside them everyday.
"You can't expect people to live your dream if you are not willing to be with them," she said.
Moving on
That is why Nonna's had to close, she said.
"I'm homesick," she said. She misses spending time with Phil, her husband of 48 years, and their grandchildren.
The hospitality business is a 60-hour week, she said. She's cutting back to just 40 hours, keeping open her Painted Door retail store. The space, which fronts Sheridan Avenue, will close for annual cleaning and to freshen the merchandise and reopen Jan. 13.
Cutting out the restaurant will give Scaramucci more time to devote to other community projects, she said, such as helping to open a production kitchen for the Regional Food Bank of Oklahoma and to serve on the many boards and committees to which she's been appointed.
"People laugh and say that doesn't sound like much of a break, but volunteer work is different than the hospitality industry," she said.
Selling the space
The restaurant space will be sold to an as-yet unnamed operator who will open a different concept.
Scaramucci said she's been asked why she didn't sell her successful restaurant, "but, my gosh, that would be like selling my child," she said.
"I have loved this so much," she said. "I still love it so much, but you want to be able to choose. You don't want somebody to have to tell you its time to leave."
Endings are bittersweet, though. Scaramucci said she would miss her staff and her clientele. Customers said they would miss her as well.
Carolee Maxwell was introduced to Nonna's when it was on Western in south Oklahoma City.
"I was always trying to find healthier places to eat and a friend told me I must try this," she said.
Now Nonna's is a tradition for her family, and she counts Scaramucci as a friend. On New Year's Eve, she dined with her husband, Wayne, their daughter, Malee Isenberg and her husband, Chad, and their daughter, Ellianna, 5.
"We always come because they treat us so very well," Carolee Maxwell said, wiping at a tear in the corner of her eye. "Avis has that servant's heart, and the staff is exactly the same — so open and giving."
Providing an experience
Scaramucci has nurtured that dynamic from her first days on south Western, when she opened her Painted Door retail store in 1991. She didn't want to just sell merchandise. She said she wanted to give her shoppers an experience — something to delight their senses, inspire their creativity and help them create wonderful memories.
"It's nice to be able to make a sale," she said, "but it's wonderful to create a place people can stay and be taken care of."
Soon, she decided people might like something sweet to eat while they were out shopping. So, she and Phil added a small kitchen.
"I was the first baker," she said. "I brought my recipe cards from home. I would start baking early and then open the store."
She soon ran out of enough hours to handle everything on her own, so she hired a baker and taught her the prized recipes.
"Painted Door and the bakery were growing," she said. "I never slept, but I didn't mind. Pretty soon I got the wild idea that someone might like a little soup and salad. That's what I promised Phil," she said, laughing. "Just a simple cafe. Then I thought I would just add a few items. That changed everything. I had to hire a chef."
Scaramucci said her first restaurant area had 25 chairs. "My ultimate goal was to fill those 25 chairs," she said.
She's done that and then some.
Bricktown pioneer
Nonna's has grown into a more than 600-seat restaurant, bar and banquet facility in the heart of one of the busiest spots in Oklahoma City. And Scaramucci has watched from her seat at the corner of Sheridan Avenue and Mickey Mantle Drive as the city has grown around her.
"I was lucky enough to come at a time when Bricktown was still young," she said. "There were people before me who put in the long, hard hours to transform this community from what was once dark, dirty and dangerous. They blazed our path. But I am thankful that I was able to be an influence during those formative years."
The growth has been like wildfire, she said. "In the next 10 years I believe we will see the community grow in a different way. We'll reach a new level of sophistication. I plan to be around and watch that and remain involved."
From here on, Scaramucci's grandchildren will still use the Italian endearment for grandmother, continuing to call her Nonna, but the restaurant that bore that name will be just a memory.
"It's time, and I can smile about that," Scaramucci said. "You want to walk away with a smile."
Iconic Bricktown eatery closing at end of the year
By Laura Noland, for KFOR-TV
November 21, 2014
Thank you for the many kind words of support. We are excited about the future of Bricktown and look forward to continuing Painted Door gift boutique for many years to come! In the meantime...hope to see you soon! best, avis
OKLAHOMA CITY – A part of history will be closing down in Bricktown soon.
Nonna's Euro-American Ristorante and Bar will close down December 31, after a nearly 10-year successful run in the Bricktown Entertainment District, which is east of downtown Oklahoma City.
Avis Scaramucci, the founder of Nonna's, said she would transition from the popular restaurant in January.
Scaramucci said the eatery, which pioneered a dining revolution in the Bricktown District, will serve its final dinners to customers New Year's Eve.
"This was a tough decision for me," Avis Scaramucci said. "Change, even if it is for the better, is always accompanied by some uncertainty and uneasiness, especially when it involves something you have literally nurtured and grown from scratch as is the case with Nonna's, which is named after my husband's Italian grandmother. It is always best to make a change when you are on top of your game. For us, we did not have to cease operation; we chose to do so. We are looking ahead with great anticipation and excitement."
"Nonna's, to a certain extent, is the heartbeat of Bricktown," said Oklahoma City Mayor Mick Cornett. "Avis had a unique vision of Bricktown no one else had at the time, and she turned that vision into a great success. She is a true Bricktown pioneer and there is no doubt Nonna's changed the face and fortune of the district."
Nonna's started as a bakery, then grew to a cafe, then transformed into a restaurant loved by many in Oklahoma.
"We are very much indebted to Avis for what has happened in Bricktown," said Jim Tolbert, longtime Bricktown developer and Oklahoma City business leader. "Bricktown probably would not be what it is today, a mixed entertainment district, without her vision and hard work."
Scaramucci says she plans to focus more on her Painted Door gift store located in Bricktown after Nonna's closes.
Nonna's Will Close December 31, 2014
Justin Dougherty, News9 sat down with Avis Scaramucci, owner of Nonna's
by News9
November 21, 2014
Nonna's Ristorante & Bar will step aside for something new on the corner of Sheridan and Mickey Mantle. News9's Justin Dougherty interviews owner of Nonna's, Avis Scaramucci.
Nonna's Closing
Longtime Bricktown restaurant Nonna's will close
by The Oklahoman
published November 20, 2014
After 19 years in business, Nonna's Euro-American Ristorante and Bar will close its doors in Bricktown at the end of 2014.
Nonna's To Close
Avis Scaramucci Annouces Nonna's Closing December 31, 2014
News9
November 20, 2014
Avis Scaramucci will be closing Nonna's on December 31, 2014. She is closing to focus more time on her family and non-profit organizations. Painted Door gift boutique will remain open for business, please come and enjoy a wonderful shopping experience!
Farewell to Nonna's
Longtime Bricktown restaurant Nonna's will close
By Brianna Bailey
November 2, 2014
When Nonna's Euro-American Ristorante and Bar opened in a converted brick warehouse Bricktown nearly a decade ago, the area was just starting to come back to life as an entertainment destination in Oklahoma City.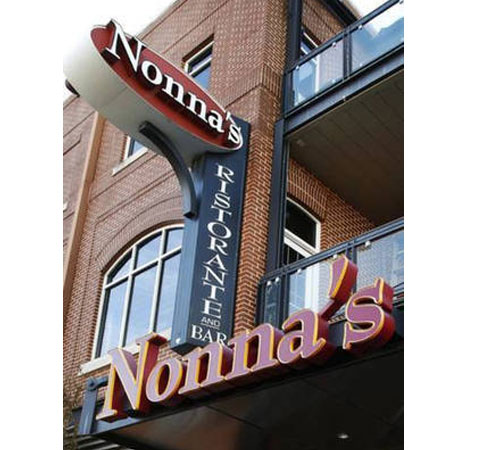 "Someone said to me, 'You ought to consider buying property in Bricktown,'" owner Avis Scaramucci said. "I said, 'Why would I want to do that?' How wrong I was."
Back then, Bricktown real estate was selling for "a nickel on the dollar," Scaramucci said.
After 19 years in business, which included a stint on Western Avenue, Nonna's told its staff this week that it will close its doors in Bricktown at the end of 2014.
Scaramucci plans to keep her adjacent gift boutique, the Painted Door, open at 124 E Sheridan, but opted to close Nonna's to be able to devote more time to her family and her involvement with nonprofit organizations and committee work.
The success of Nonna's and the Painted Door gave other business owners the courage to invest in Bricktown, Oklahoma City Mayor Mick Cornett said.
"That restaurant is to a certain extent the heartbeat of Bricktown," Cornett said. "Avis came in with not only credibility and the capital, but the business acumen to kind of see through the hurdles."
Scaramucci told her 75-member restaurant staff this week that the restaurant at 1 Mickey Mantle would close after Dec. 31. Scaramucci is giving her staff four weeks of severance pay to give them time to find new work after the restaurant closes, she said.
"It will be nice to work maybe closer to a 40-hour week rather than a 50- or 60-hour week," Scaramucci said. "It's nice to be able to make the choice to close because you've done it to the best of your ability."
Scaramucci considered letting another operator take over the restaurant, but said she is instead looking for a new restaurant concept to take over the space. She owns the historic three-story warehouse building that Nonna's inhabits at the corner of Sheridan and Mickey Mantle in Bricktown.
"Nonna's is like my child that I've conceived and raised," Scaramucci said. "Someone might be able to take it over and do it better than I can, but nobody can love it like I do."
Scaramucci opened her gift shop as Painted Door Gallery in 1991 at 8601 S Western. The shop sold antiques, gourmet food items and bath and body care products, among other items. Using her own recipes for pies and cakes, Nonna's Bakery opened in 1995 in the building on Western with seating for 24.
"I wondered at first if I would ever be able to fill up those 24 seats," she said.
In 2005, Scaramucci moved Nonna's and the Painted Door to a refurbished and remodeled warehouse in Bricktown. Much of the historic warehouse district was "still dark" at the time, Scaramucci said.
"I think we are very much in her debt for what has happened in Bricktown — it probably would not be what it is today," Oklahoma City businessman and developer Jim Tolbert said.
Jane Jenkins, president and CEO of Downtown OKC, Inc. said Scaramucci's community invovement and passion helped Bricktown thrive over the past decade.
"She brought some of the first retail in with the Painted Door," Jenkins said. "She brought high dining and personality to that district."